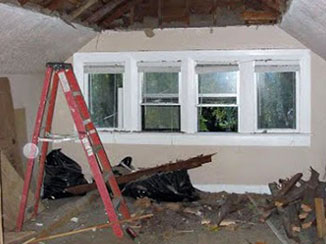 Check For Water Leaks

Water or moisture of any kind is the biggest cause of mold in the home, so periodically checking for any signs of water damage can be hugely important in making sure it doesn't start to grow. The most common problematic areas are bathrooms, kitchens, the attic, and crawl spaces. Bathrooms and kitchens both have sinks where water may be leaking from the pipes beneath without you knowing it, and bathrooms also have showers or baths which can splash water onto the floor or walls near it and cause saturation that can eventually cause mold. The attic may have leaks in the ceiling or improperly sealed windows that allow rain in. As for the crawl space, it tends to have the majority of the pipes that run water through the household, and you rarely visit it, so there may be leaks there without you knowing. Checking all of these areas for signs of water damage like discoloration or swelling is a good first step to protecting against mold.

Clean The Attic/Crawl Space

Both of these areas are likely to be ignored, and allow for a buildup of dust, dirt, and otherwise. This can make a perfect environment for mold to begin growing, particularly if moisture is also introduced. Having both areas periodically cleared out can stop this from happening, and the technicians will also be able to see whether mold has already begun spreading but was masked by insulation or the dust itself and catch it before too much damage is done. They'll be able to safely remove it so you won't have to worry!

Get Mold Prevention Services

It may go without saying, but one of the best and easiest ways to make sure that mold won't grow in your home is to have an expert come out perform mold prevention services. This special treatment is safely applied to anyplace that needs it, especially those problem areas where water tends to be present. It will ensure that mold isn't able to form to begin with, thus keeping your home and those in it safe!