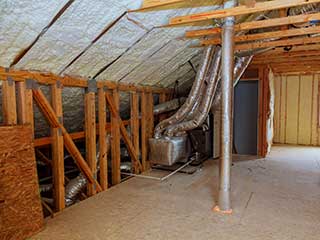 Attics can suffer from under-insulation for several reasons. Sometimes, the insulation was installed so long ago that it has become weak and worn-out over time. Sometimes, it wasn't even installed to begin with, so the attic has remained unsealed to date.
This situation can cause a number of problems for your business. It might cause problems with your employees, who may complain about a lot of things regarding the conditions in which they are required to work. It might also cause you problems with potential investors or business partners and it might cause you problems with the customers – one of your business's most precious assets. Here are several examples.
Unhappy and disgruntled employees
An unsealed attic with bad insulation can first cause heat transfer, which means heat escaping during winter and entering during summer. Your employees might complain about the air conditioning not working well or about them being too cold or too warm. They can also complain about poor air quality, as the unsealed attic may also lead to mold and bacteria, which may actually result in justified complaints against you as their employer.
Investors unwilling to invest in your business
When you invite potential investors to visit your business, or potential business partners for that matter, in order for them to learn more and decide whether they want to engage or not, they expect to find the best conditions possible. Finding your business to be unpleasant or unsafe to stay at, for any reason whatsoever (including the quality of the air, temperature issues, etc.), will probably eliminate any will they may have had to invest and partner up with you.
You can prevent all that!
All you have to do is check every now and then that the ceiling and attic are properly sealed, and when they are not – to call professionals to seal them. At Attic Cleaning Anaheim, we will provide any business, industrial structure or institute, with high quality commercial attic insulation services, including attic cleaning and decontamination, removal and installation of your new insulation. Don't leave your business chances to fate, you can make sure your surroundings are healthy, safe and appealing for employees, customers and business partners!