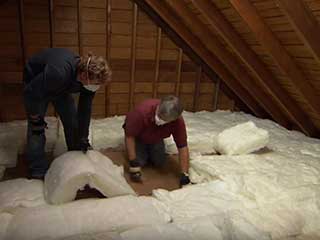 When moving into a new home, one of the most important things to do is to make sure that the attic is completely and properly sealed. Why? Your attic's insulation affects many aspects in your daily life, including the cost of electricity usage, the quality of the air you breathe and even the health of yourself and your family. In light of these meaningful statements, here's important information about the services provided by Attic Cleaning Anaheim, which are available for you today!
How Is It Done?
How does the process of sealing the attic work? First, our team starts with removing the old insulation material, including any leftovers that might still be attached to the ceiling or to the floor, so the new layer can be installed properly. Then, we clean up the attic of any dust, mold, bacteria or other dirt that has accumulated over time. Once the area is clear, clean and sanitized, the new insulation can be put in place. It is important to remember that good installation directly correlates with the efficiency of the insulation and its durability over time.
Why Should You Hire Professionals to Do the Job?
Of course, there are a lot of things in your house that you can fix and install by yourself, but when it comes to insulation, it is most recommended to hire professionals for the job. When you hire professionals, you can rest assured that the cleaning will be done down to the last trace of any infection that may have contaminated your attic, as they have the suitable equipment and know-how to do so. Additionally, as we've mentioned, the installation of the new insulation will determine how well it functions over years to come – miss one unsealed spot, and the whole thing will be useless. Besides, when you have great services offered to you for fair prices – there's nothing to think about other than getting the best solution you, your family and your home deserve.
It is also important to remember that insulation replacement is not due only when moving to a new house but also as required, simply because insulation does not last forever and becomes worn out over time – how long? Depends on the quality of the materials and the quality of the job that was done in the first place.
If you're after effective and lasting solutions, don't hesitate – give us a call today!